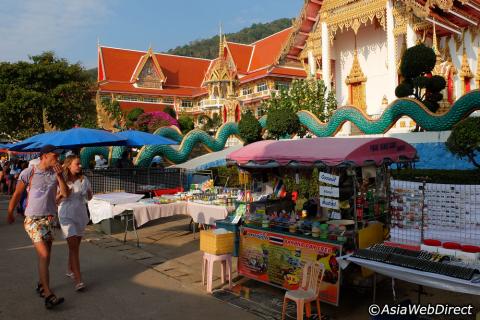 Karon Market is a popular shopping location set in the heart of Karon Beach in its temple grounds. Karon centre is a 500m street bordered at both ends by notable landmarks: on the beach side, the elegantly decorated Karon Circle, and on the inland side, Wat Suwan Khiri Khet (the official name of Karon Temple), a splendid Buddhist temple which has been going through renovation and upgrading since 2010.
Wat Karon's compound covers approximately 12,000sqm, and twice a week (Tuesdays and Saturdays) becomes a lively market at which visitors can find a great choice of products, and local food, giving a real insight into local culture. Karon Market is, on a smaller scale, similar to the famous Phuket Weekend Market held in Phuket Town's southern suburb every Saturday and Sunday.
Karon Market, like most outdoor markets in Phuket, starts late afternoon when the heat of the day dissipates. The ranges of products on display at the market is definitely tourist oriented: from fluorescent Singha beer sleeveless T-shirts to Thai-style bags, scarves and sarongs to multi-coloured swimsuits and beachwear to flower-shaped soap carvings to Muay Thai (Thai boxing) shorts to branded (unofficially) watches and handbags to cheap jewellery – all affordable gifts and souvenirs to take back home.
Besides the obvious shopping mentioned above, there are a few stalls displaying real original items, skillfully handcrafted by Thai artists, which show a more interesting side of the ability to create something from scratch. Two examples are cleverly done small 'robots' made of electric wires and springs, and beautifully knitted Teddy Bears and dolls. Other articles, such as natural skin treatment products like aloe vera and virgin coconut oil, and cosmetics can also be found at Karon Market.